Franky Carrillo
Franky Carrillo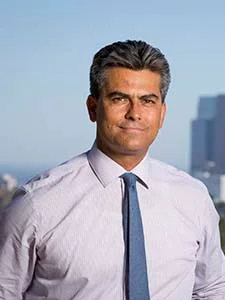 Franky Carrillo, First Supervisorial District
Commissioner Franky Carrillo is a dedicated father and advocate who speaks up for those who have been silenced by the criminal justice system like he once was. Mr. Carrillo in 1991, at the age of 16 was wrongfully convicted of a crime he did not commit. Despite his wrongful conviction, Mr. Carrillo always believed that justice would prevail, and it did. In 2011, he was exonerated and released from prison. He earned a bachelor's degree in 2016 from Loyola Marymount University and won a settlement after suing the Los Angeles Sheriff's Department for his wrongful conviction.
Mr. Carrillo found his voice and civic engagement early on when he joined state and national campaigns for extensive reforms within the criminal justice system. Mr. Carrillo is an elected member of the Los Angeles County Democratic Party and chair of the 51st Assembly District. He's co-chair of the judicial interview committee and sits on the policy committee. He's also a member of the transition team for the new Los Angeles County District Attorney George Gascón.
Mr. Carrillo was appointed by the First Supervisorial District to serve as a Commissioner for the newly formed Probation Oversight Commission. He served as the inaugural Chair of the Probation Oversight Commission.